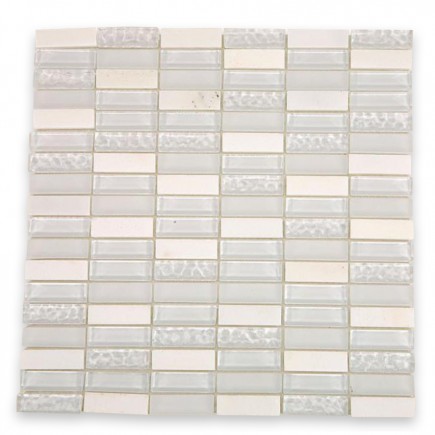 Condensation Blend 1/2x2 Glass Tile
Move your mouse over image or click to enlarge
Condensation Blend 1/2x2 Glass Tile
Usually Ships in 24 to 48 Hours
Price is Per sheet
You Save: $9.25 (36%)
Sample Swatch
$2.99 - Sample Swatch
5 for $10 or $2.99 each
We have less than 9 sq. ft. in stock of this product, so samples are not available at this time. Please check back soon, as we restock very quickly.
Design Elements
Loft Condensation 1/2" x 2" Glass and Marble Tile
Combining the beautiful blend of super white glass in frosted and polished finish with white thassos arranged in a classic stacked pattern. The rectangular tiles are mesh-mounted in an aligned pattern, reminiscent of the clean lines of keys on a piano. The blending of the white glass and marble will give you a sleek, clean and modern feel to any room.
Specs
Chip Size:

1/2" x 2"

Color:

White Thassos & Super White

Material:

Stone + Glass

Finish:

Polish & Frosted

Sold By The Sheet

Sheet Size:

12" x12"
Recommended Grout Color
Buy 2 for $20.00 each and save 20%

Buy 3 for $18.33 each and save 27%

1 Box of Grout Covers Approximately: 34 sf of this tile
Reviews
Installation
Video
SUBSTRATE
Tile must be installed over a suitable substrate to insure a proper installation. Tile should be installed over a clean, sound, and flat surface, free of contaminates including curing compounds. Substrate should be free of cracks. If used in a wet area you must waterproof. Tile must be sealed.
INSTALLATION
To avoid affecting the color of the tile, White modified thin-set is recommended for all installations.
Apply as much adhesive as can be covered within 10-15 minutes.
Grout joint should be a minimum of 1/16" and not butt set.
The trowel size you can use is a 9" Trowel - 1/16" square notch.
GROUTING
Use Non-Sanded grout
Grout joints should be packed full and free of voids and pits.
Clean excess grout as the work progresses before it has hardens completely.
Acids should never be used for cleaning grout haze.
Use a damp sponge for the final cleaning and to smooth out the grout joints.
It is recommended to use grout release, then grout the tile, then use a sealant to the tile such as our MP90
Highly recommended to purchase the Glass & Stone Installation/Maintenance Kit - http://www.TileBar.com/collection/tiling-supplies/glass-stone-tile-maintenance-package.html
CUTTING
The recommended cutting method is to use a wet saw with a diamond blade that is specifically for cutting glass. Edges can be sanded smooth after cutting.
Buy 2 for $20.00 each and save 20%

Buy 3 for $18.33 each and save 27%

1 Box of Grout Covers Approximately: 34 sf of this tile
Close
When you buy 4 or more samples from GlassTileStore.com, we will include a $20 Gift Card with your order!
Can be used towards all products or samples on GlassTileStore.com
Can be combined with any other coupons
Free priority shipping on both your samples and your gift card
Gift card is good toward your next purchase and will be shipped together with your samples