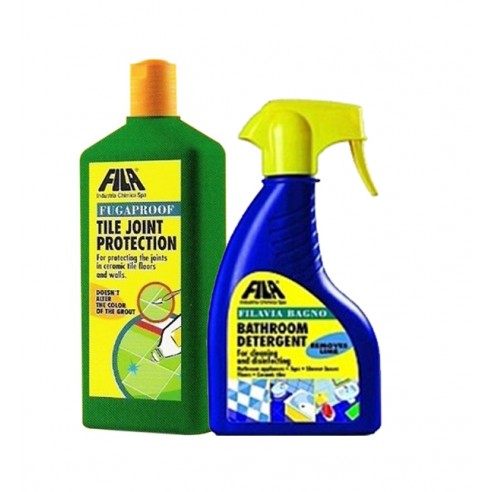 Move your mouse over image or click to enlarge
Glass Tile Installation Kit - Highly Recommended
Step 1
Try Before You Buy
Ships in 1-2 business days
Our Price:
$39.95
You Save: $22.05 (36%)
for 2 bottles of Filavia Bagno and 1 bottle of Fugaproof
Design Elements
Glass Tile Maintenance Package
Glass Tile Maintenance Package
To use for glass tile maintenance, package includes 1 bottle of Fugaproof and 2 bottles of Filavia Bagno.
FUGAPROOF
Tile Joint Protection
How It's Used
No dilution: ready to use
Application:
Apply directly to the grout joints using the special spout.
Spread evenly with a small paintbrush.
Leave to dry for a few hours then the surface will be ready to walk on again.
Any spillage of the product onto nearby tiles should be removed immediately using a paper towel or a clean cloth.
The product may be applied to the tiles with a paintbrush. For easier application pour a sufficient quantity into a suitable container.
Filavia Bagno
Concentrated Bathroom Spray Cleaner
How It's Used:
Ready for use: do not dilute.
Application:
Spray onto surfaces, holding the bottle certical about 15cm fro surface to be cleaned. Leave to act then clean with an absorbent cloth.
Specs
Package Includes:
2 BOTTLES OF FILAVIA BAGNO
Shaken or Stirred?
The Negroni - Count Camillo Negroni gets credits for creating this aperitif around 1919. As the story goes, Negroni really loved to throw back an Americano (Campari, sweet vermouth, and club soda), but he wanted a little extra zing in his glass. He asked a bartender to replace the club soda with gin to give the mixture some added kick, and the Negroni was born.
Browse 2 questions and 10 answers
What color grout is recommended Celeste summery bloom?
Best Answer:
We did not use very much of the contents of the kit. And this was our first experience with tile installation.
So the kit was helpful but we probably had two times as much cleaner in the kit than we required.
Cannot answer grout question as we did not use that particular tile.
Show more
Close
When you buy 4 or more samples from GlassTileStore.com, we will include a $20 Gift Card with your order!
Can be used towards all products or samples on GlassTileStore.com
Can be combined with any other coupons
Free priority shipping on both your samples and your gift card
Gift card is good toward your next purchase and will be shipped together with your samples